Digital insights, technological inspirations (DITTO)
Kuva
Digital insights, technological inspirations (DITTO) supports the development of pragmatic digital skills of the South Karelian workforce, entrepreneurs, those thinking about starting a business, public and third sector organizations, and unemployed job seekers by creating an independent MOOC course for everyone, independent of time and place. The MOOC focuses on training widely deployed, highly developed, and internationally utilized online applications and tools that enhance:

- Collaborative and remote meeting.
- Project and process management.
- Marketing and social media utilization.
- Data and online security.

In addition to using concrete, widely used, often free and advanced applications, MOOC introduces participants to the design process. This facilitates participants' understanding of efficient and creative utilization of the studied tools as part of their everyday life.

The project targets all those who would benefit and are interested in developing their processes toward more efficiency and green transition using contemporary and modern digital tools.
The aim is to support the efficiency of businesses, individuals, and various organizations, improve competitiveness, and provide concrete solutions and tools for everyday use and green transition.

Project funding
ESR 2014-2020 Flat Rate
Kuva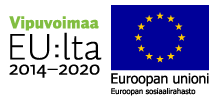 Unit
Institute of Design and Fine Arts