Double Degree programme in Civil and Construction Engineering
LAB University of Applied Sciences offers you a unique opportunity to obtain two degrees while studying one bachelor's degree programme.
You have a chance to get unforgettable international experience while studying one year in the multicultural atmosphere in Lappeenranta.

Study time
01.09.2021 - 31.12.2022
1 - 1,5 years
Main instructor language
English
Form of study
Contact studies
Lappeenranta campus
Location
LAB ammattikorkeakoulu
Yliopistonkatu 36
53850 Lappeenranta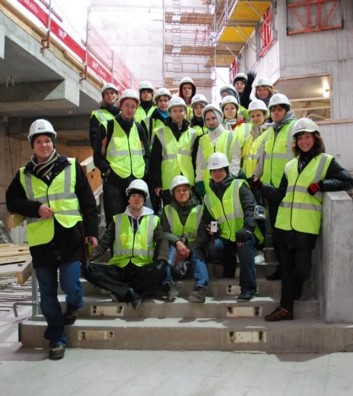 3 or 4 years in home university in St. Petersburg plus 1 year at LAB University of Applied Sciences = 2 diplomas
Students from Saint-Petersburg participating in the Double Degree Programme
St. Petersburg State University of Architecture and Civil Engineering
St. Petersburg State Transport University
St. Petersburg State Polytechnical University
study at least one full academic year at LAB University of Applied Sciences, select courses according to the study plan and achieve diplomas from both universities.
Condition of admission
Application period for studies beginning in September 2021 is 22nd March 2021  – 7th April 2021. Before the start of application period, partner universities provide list of interested students to the specialist. The deadline to inform us is on 15 March 2021. Afterwards, before application period opens, interested students will receive link to the application form, which they should fill in and attach required enclosures.
The required enclosures for applications are:
Latest official transcript of records (completed courses with grades)
Authorized translation of official transcription of records in Finnish, Swedish or English language
Curriculum Vitae
Copy of identification document valid abroad (foreign passport)
The applicants are required to pass an entrance exam, which will be organized online. The entrance exam includes three parts:
Engineering skills test
English language test
Interview
Results of the admission will be announced no later than 30 April 2021.
Prerequisites
DD Programme in Civil and Construction Engineering is for students studying in a relevant degree programme in St. Petersburg. Students should have studied successfully at least three academic years at their home university before beginning of the studies at LAB University of Applied Sciences.
Evaluation criteria
The admission process is carried out by the results of entrance examination.
Entrance examination 2021:
14.04.21, 14.00-16.00: written part
15.04.21 - Interviews
Terms of cancellation
If the order/registration is cancelled no later than 14 days before the stated start date, there are no cancellation charges. If the order/registration is cancelled up to 14 days before the stated start date, a 50% cancellation charge applies. If the order/registration is cancelled up to 48 hours before the start date (or not cancelled at all), the full price will be charged. Cancellations must be made in writing.